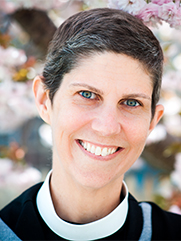 The Rev. Anne Turner, Bridge Interim Rector
Anne grew up in Northern Virginia, learning to love all that this area offers—neighbors from around the world, abundant theaters and museums, and the beauty of the Shenandoah Mountains and the Potomac River.  After studying in England and then working at the Folger Shakespeare Library, she was ordained in 2003 and has served at Grace Church, Alexandria; Grace Church, Amherst (Massachusetts); and St. Mary's, Arlington.   Her ministry has taken her through the breadth of parish life, from designing children's chapel services to fostering small groups to hospice rooms to strategic planning.  Anne is married with two school-aged daughters, two Labrador Retrievers, and a slightly unkempt vegetable garden.  When she is not around church, she hopes to be out in the woods with binoculars and a sketchbook.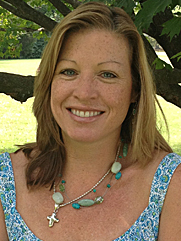 Christine Hoyle, Director of Children and Youth Ministries
Christine was born and raised on Long Island in Stony Brook, NY. Her family took brief stops in New Jersey and Michigan before they settled in Virginia. She graduated from James Madison University with a BS in Political Science. After graduation she worked in the Contracts Department for several large corporations in the DC area. She married her husband, Mike, in September of 2000. Prior to joining St. Timothy's staff in April 2012, Christine worked for three years as a teacher's assistant at Herndon United Methodist Preschool. Christine, Mike and their 3 children live in Potomac Falls. They are sports fanatics and enjoy watching football, baseball and college basketball together.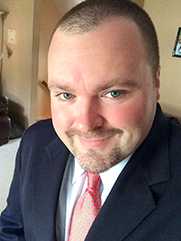 Kevin "PK" Hamilton, Director of Parish Operations
Kevin, or "PK" as he is known to friends and family, joined Saint Timothy's in August of 2013. He received his Degree of Church Ministries from the Capital Bible Institute. While studying for the ministry, PK interned with Capital Baptist Church in Annandale, Virginia before joining the staff full time as the Administrator of a capital campaign for the church's campus expansion. PK was licensed as a Pastor in the Gospel Ministry in 1999 and served there as the Pastor of Outreach and Administration and then as Pastor to Students and Children for five years. In 2002, PK was ordained shortly before resigning from Capital Baptist to focus on church planting efforts (starting new churches), and has been a church planter ever since.
In 2004 PK entered the Human Resources field for Ratner Companies (parent company for Hair Cuttery, Salon Plaza, Bubbles, and ColorWorks). He served there for more than eight years in several HR roles including Director of Internal Communications and Director of Organizational Development.
A Northern Virginia native, he currently lives in Centreville.  He leads a small team of people starting New Journey Church, a non denominational Christian church. PK says he is honored to serve Saint Timothy's, partnering with the gifted people who call this church home as we fulfill our mission to the community and the world together.
St. Timothy's congregation has enjoyed the placement of seminarians from the Virginia Theological Seminary for thirty-five years. They come to us through the Seminary's Office of Field Experience. Through a process of church visits, discussion with the director of field education and interviewing with supervisors, seminarians negotiate a field placement of twelve hours a week which begins in September of their middle year of study. While at St. Timothy's they participate in the worship service and Christian education.