St. Timothy's rector of 22 years retired in August of 2015. We are now in the process of searching for a new rector.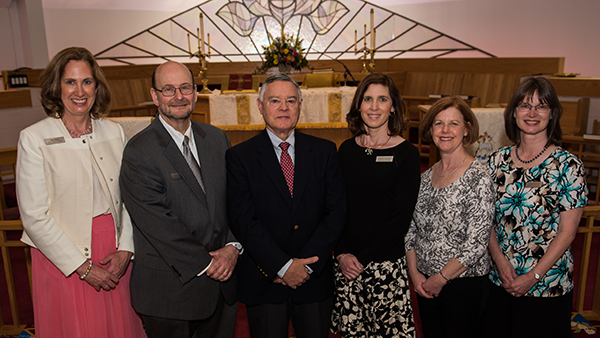 L to R: Shon Beury, Tom Davis, Bill Odio, Catherine Lamoureux, Betsy Knoizen Bosworth and Allyson Showalter
The Rector Search Committee (RSC) is blessed to have an outstanding group of talented, motivated and hard-working members. Two new members, Betsy Knoizen Bosworth and Allyson Showalter, joined existing members Shon Beury, Tom Davis, Catherine Lamoureux and committee chair Bill Odio. Allyson and Betsy jumped in enthusiastically and are contributing important talent and parish experience to the group.
The RSC welcomes the opportunity to discuss parish priorities for the rector search with any member of the congregation.  Everyone is encouraged to share your questions and concerns with any of us either in person or by mail.  We all have nametags identifying us as RSC members and you may email us at RSC@saint-timothys.org.  Thank you for keeping St. Timothy's and the RSC in your prayers.
To view a summary of the results of our Parish Survey, please click here. To view our Community Ministry Portfolio, with some sections redacted for privacy, please click here.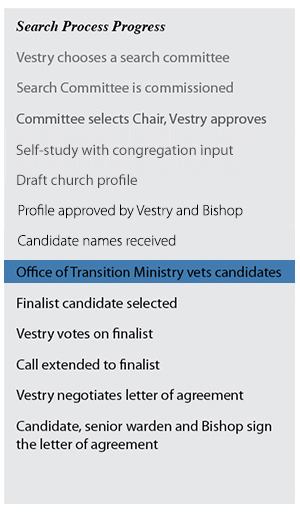 RSC Prayer
Heavenly Father, thank you for your infinite blessings and for making us instruments of your holy work during this time of renewal and discernment, as we prepare to welcome our new Rector to St. Timothy's. 
Holy Spirit, thank you for guiding, inspiring and strengthening us so that we may glorify God through our work. Open our hearts to one another in God's love, patience and joy during this time of spiritual growth and decision. 
Lord Jesus, thank you for keeping us united in your grace, hope and love as we minister to each other during our time of transition. Grant us faith to appreciate one another and shepherd us toward your will in selecting a new Rector. 
We are most grateful for the grace of the Lord Jesus Christ, the love of God and the fellowship of the Holy Spirit. Amen.
Save
Save