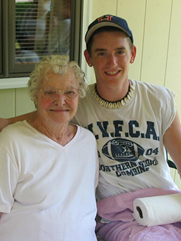 For the past 20 summers, the Senior High Youth Group members have been going to Dungannon, VA, in Appalachia, to repair substandard housing and help those in need. It costs over $7,000 to send approximately 29 teenagers/adults on this mission for a week. They live in an old sewing factory while helping complete local home repairs. Some of the projects have included building wheel chair ramps, repairing flooring that has rotted away, and fixing leaking roofs.
The Group holds special fundraisers like a Pasta Dinner, Pancake Supper, and Car Wash to support the annual mission trip to Appalachia. Parishioners also provide donations, and periodically, companies will make donations as well. St. Timothy's annual youth mission trip has expanded in breadth every year.
Last summer, the youth groups and chaperones of three Region V churches — St. Timothy's, St. Thomas,and  St. Anne's — spent one week in Dungannon, Virginia the end of July to early August to repair and rebuild substandard housing for the residents. The 50 participants removed and installed flooring, installed doors, removed and installed bathroom fixtures, replaced missing/broken pipes, removed and replaced subfloors, and repaired and replaced roofs. 
If you are participating in the trip, please download the Youth Form here: DungannonForms-2015v2 – Fillable-youth or the Adult Form here: DungannonForms-2015v2 – Fillable-adult